LATEST UPDATE
Owing to the current government regulations, we have decided to move the 2020 Men's Convention to be online event to take place via Zoom. It will still take place on 17th October, for a shorter duration. See below for full details of the Programme.
We're obviously disappointed not to be able to gather in person, but excited that we can still hear from God's Word and share a measure of fellowship together as men from the South West.
Ticket prices will be slashed to a nominal fee to cover costs only.
Jesus calls us to take up our cross and follow him. But what does that mean for us today? How do we live a radically sacrificial life in our duties as fathers and sons, employees and employers, friends and church members? How do we commit to radical obedience in every life decision?

How do we choose to die?

Join us to ponder afresh how we walk the path of dying with Christ.

And truly live.
Speakers
Graham Daniels
Graham has been General Director of Christians in Sport since 2002. He has been involved in sport all his life and is he is currently a Director of Cambridge United Football Club.
He is an Associate Staff member of The Round Church at St. Andrew the Great (StAG).
Graham is married to Michelle and they have three children and three grandchildren.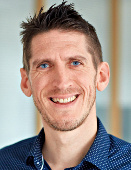 Dave Gobbett
Dave Gobbett has served as Lead Minister of Highfields Church, Cardiff, Wales since Spring 2014. Prior to moving to Cardiff, Dave was on the staff of Eden Baptist Church in Cambridge, serving as the Associate Pastor.
Dave has served as a pastoral assistant at Capitol Hill Baptist Church in Washington DC, and an apprentice at Christchurch Mayfair, during which time he completed the Cornhill Training Course. After four years working for UCCF in the north east of England, Dave went to Oak Hill Theological College where he completed a degree in Pastoral & Theological studies. He is a regular speaker at Christian Union missions as well as at Word Alive, of which he is a trustee.
Dave has been married to Sally since 2004 and they have four young children (Ella-Beth, Owen, Barney and Noah). On most days off you'll find the family exploring the beautiful Welsh outdoors -- interspersed with Dave trying to get the kids into snooker, tennis or West Ham United FC.
Programme
09.45
Live stream starts via Zoom
10.00
Session 1 with Graham Daniels
10:50
Breakout rooms
(attendees will be allocated to a breakout rooms of 8 people each, and invited to discuss some questions following on from the talk)
11.05
Coffee break
(large breakout groups will be available for fellowship, or alternatively a link will be posted to our online shop with 10ofThose, or this time can be used for a screen break)
11:50
Session 2 with Dave Gobbett
12:40
Breakout rooms
(attendees will be allocated to a breakout rooms of 8 people each, and invited to discuss some questions following on from the talk)
12:55
Question time with Graham and Dave
13.30
Close
How to get there
No need! The convention will take place entirely via Zoom.
When you book, you will be sent instructions on how to join.